CGT 1999 Norway Tour Slideshow
CGT in Norway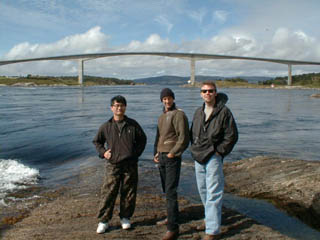 The following is a low-bandwidth, electronic slide show of the CGT in Norway in 1999. The simple method used to create the slideshow is a tad clunky by today's standards, but we're sure you'll appreciate how far we've come since then!

The entire slide show runs about 5 minutes. If the images do not begin changing automatically within 15 seconds or so after clicking on the link below, it may not work with your browser. In this case, please click on the numbers at the bottom of the page under "Photo Index" to view photos of the tour individually. You can also save time by having the entire slideshow run unattended (loading it into cache), and back through it later.

Click HERE to begin!

  Return to the 1999 CGT Roadcam Archive Index
Copyright © 1999-2013 California Gutar Trio. All Rights Reserved

PHOTO INDEX

1  2  3  4  5  6  7  8  9  10  11  12  13  14  15  16  17  18  19  20  21  22  23  24  25  26  27  28 
29  30  31  32  33  34  35  36  37  38  39  40  41  42  43  44  45  46  47  48  49  50  51  52  53  54